The small family room used by patients and relatives during play therapy at Hudiksvall Hospital was in great need of refurbishment. The assignment for Katarina Jönsson and Marie Lindgren was to create a room with digital equipment for big screen projection. The room was designed as a small cinema. It received partly new furnishings and a neon sign with the text SERUM. Here, patients and relatives can, among other things, watch films, art videos and play video games. An animation box was also procured so that the children can work with their own animated film, which can easily be shown in mini cinema format on the wall with surround sound. The staff has been involved in the work and received help with technology and to work with the animation box and sound production for their patients.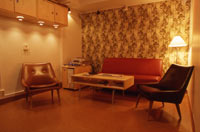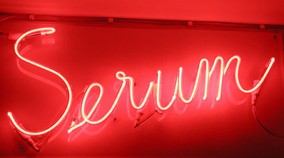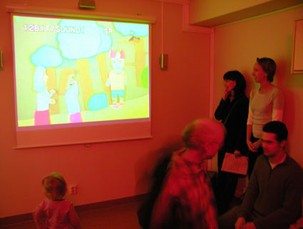 SERUM
The digital experience room
The play therapy at Hudiksvalls hospital wanted an experience room. The art manager of the county council wanted a place to show digital art work in. A completely new concept was born!
The very young patients at the play therapy had, among other things, clay and water-colours, but the teenagers did not have too much to occupy themselves with. They often spent their time in a small, crowded and worn out room. There were deck of cards, the usual parlour games, a stereo and not much more. The staff got in contact with Jörgen Dahl, art manager of Konst Gävleborg, and asked for something the older children could enjoy. He bought animation equipment with which help the young patients could make their own movies.
Then the personal wanted an experience room. Jörgen Dahl thought that the standard equipment for experience rooms felt plain. At that time he saw a possibility of uniting art and health care.
One of Konst Gävleborgs tasks is to buy and display contemporary art and to support contemporary expressions of art. But there was a large group of artists from whom we had never before bought art, since we had not been able to show their work in public appearances. These are the ones who work with the digital technique. To show their art you need the technical equipment, someone to entertain it, as well as solutions to several other problems, says Jörgen Dahl.
I saw a possibility to create a digital experience room, where the youngsters could do fun things; see their own animations on a widescreen, watch quality movies, work with drawing programs and listen to music through a good sound system.
At the same time it became possible for me to place orders with artists in digital art and music. In addition the design of the room could be an interesting assignment for artists.
The artists, Katarina Jönsson and Marie Lindgren from Gävle, was engaged for the assignment of doing the experience room. They were not only going to carry through the artistic character of the room, but also create the technical apparatus, where the animation equipment, already present, was going to be included.
The result was very successful. The room is being used as planned. The personal takes care of everything, but we do exist in the background as a resource. It works out terrific!
Above all it is important that we have done something that is fun and good for the teenagers.
To succeed with an investment like this you need committed personal, open for new exiting things, who think it is important and that have the time and strength to carry it through. It is also very important from our side to have a keen ear for the terms and desires of the personal.
The digital experience room in Hudiksvall is a part of Konst Gävleborgs long-term developing plan, it is not only a passing fancy or a fun idea, says Jörgen Dahl.
The concept with digital art work in health care which Konst Gävleborg has developed is going to be tested at Gävles hospital. At the site Konst Gävleborg, in co-operation with Statens Konstråd, is now planning a digital station for adult patients, in the new hospital entrance.
An additional area for digital artistic forms Jörgen Dahl sees in the spiritual- or meditation rooms that many hospitals now replace the Christian devotion rooms with, to be used by all religion practises. There could for example meditation movies and other digital art work be shown.
But one must not forget the huge need for silence in these kinds of rooms.
The concept of the artists
When the artists Katarina Jönsson and Marie Lindgren got the task to equip the digital experience room they took an overall-control – Serum was invented.
Art in health care can be oil-paintings and then it could be a room with digital technique that can be used for experiences, creativity and rest. Add a bright red leather sofa, wallpaper from the 70s and a neon sign with the name Serum and the experience room is complete.
We wanted a name for the room so it would be more than just a room with computer equipment, says Katarina Jönsson and Marie Lindgren..
It is the character of the room and the technical equipment that together form the concept we have brought out. With the name Serum and the neon sign we take a larger conceptual control. As artists we are good at designing rooms. We work a lot with that in connection to our own exhibitions. With Serum it becomes an encounter between the art and the other activities. It is not so obvious if it is art or not. We like forums where art is available to many.
The room which Katarina Jönsson and Marie Lindgren was going to form was very small, rectangular and without windows. They started by emptying the room with the aim to have as few things as possible in order to create a soothing atmosphere. The oblong shape of the room gave them the idea of making it feel like a movie theatre. A widescreen was installed on one of the walls and as a contrast to the high-tech, wallpaper with trees on it (original from the 70s!) was hanged on the opposite wall. A sign with Serum in neon got its place above the red leather sofa. Two 50s chairs, which already existed in the apartment, a practical table by the sofa, a cupboard for the gadgets and a wall cupboard, make the furnishing.
It is a sound room just as much as a serum (see-room). Four surround speakers guarantee a high quality sound.
And the name Serum?
It is a play with words. It can be interpreted as a room to see in, but it also mean antidote. An antidote against the thoughts of illness and painful treatments. In Serum the young patients are able to shut the door and escape feeling sick for a while.
A lift for the play therapy
The digital experience room, Serum, became a lift for the play therapy. At last there is something that even young people can find attractive.
Children in hospitals have very big demands on them. They have to manage examinations and treatments. It is a stressful situation from which they need rest. That they can get at Serum. There they can forget that they are sick, for a brief moment. There are no demands, they can be how passive or active they like. Maybe just relax in the cosy red sofa or watch a meditation movie on the big screen and listen to the sound through the surround speakers, play a fun computer game with family or friends. Make an own cartoon with the animation equipment, draw something fun with the drawing program on the computer, listen to music or chat with friends on the Internet.
It is important that the children have an opportunity to be creative and have fun, it makes the healing process shorter, says Birgitta Ohlsson, play therapist.
She thinks that it is important that the teenagers as well wants to be in the play therapy. It used to be hard to get them there. But when they hear what you can do there now, they come- and they stay.
The patients bring their friends, so sometimes it is very crowded in the little room, says Birgitta Ohlsson.
The families, as well, have great pleasure of the room when they visit.
Serum has shown to be very good for patients with pain.
There was a girl here who had so much pain and was so afraid. She just cried and cried. Then we went in to the room. I put on a relaxing tape, allowed her to sink down on a rice sack and shut the door behind us. We sat there quiet for 20 minutes, it helped her, says Birgitta Ohlsson.
Serum means a lot, obviously for the children who use it, and also for the play therapy and its personal, who thinks it is fun to have gotten so much modern techniques. It makes them feel quite special. They notice that when they speak to other play therapists around the country and hear that no one else has an experience room
In the beginning the personal thought it was demanding to learn to deal with the technique, but now there are no problems, everyone can handle the devices.
It was fun to have the artists here, to get some new thoughts and new influences. It lifted the activity, says Birgitta Ohlsson.
The personal has ideas about further developing of Serum. The personal of the hospital could use it for relaxation. And with the animation equipment the play therapy's personal could do their own instruction videos for children concerning different treatments.
Karin Fürst, Writer